Germany's southernmost township not only impresses with beginner skiing courses and hiking at three altitudes but is also the perfect destination for adrenaline fans and those who don't want to miss rapid descents and extreme altitudes in their winter sports vacation.
By the way, the annual Four-Hills-Tournament is not the only top-class sports event.
Ski and Snowboard
Oberstdorf is characterized by its excellent ski slopes. With 130 kilometers of slopes, the Söllereck-Fellhorn-Kanzelwand ski area is the largest ski area in the region. For snowboarders, the NTC Snowpark has its own snowboard rental as well as various jumps and obstacles. Skiers will be amazed by an almost unlimited selection of slopes and can enjoy not only extreme altitudes but also particularly steep or winding ski slopes.
Ski resorts
There are a variety of beautiful ski resorts with distinctive characteristics. The Nebelhorn convinces as the "high alpine" with one of the longest and most spectacular downhill runs, while the Söllereck, as the most modern adventure mountain of the Allgäu, is especially exciting for families. Snowboarders get their money's worth especially at Fellhorn/ Kanzelwand. Easy to medium kicker lines and simple obstacles are particularly convincing. If you like it mystical and magical, the Table-Mountain Ifen is the right place for you. Its bizarre snow dunes and enchanting sagas appear almost magical and make every visit unique.
Cross country skiing
You think cross-country skiing is a more leisurely sport? Let Oberstdorf prove you wrong with over 75 kilometers of groomed trails! The snow-covered mountains and breathtaking landscapes are inviting mainly because of their enchanting sight, but they are also the backdrop for the World Cup cross-country skiing trails. And what could be more challenging than following the footsteps of world champions?
Circuits
Rock the world championship tracks and become your own nordic ski world champion. Fast-paced ski slopes, tight turns, but also pleasantly flat terrain await you here. The best part? If it should unexpectedly become too strenuous, difficult passages can simply be bypassed.
For night owls, the night trail might become a vacation highlight! The floodlit circuit is also ideally suited for beginners but will thrill you with the snow illumination from 4:30 p.m. and the challenge of navigating the course in darker conditions.
Last but not least, the Rohrmoos trail is a must see for those who love untouched snowy landscapes and snow-covered mountain forests. Throughout the course, there are always opportunities to return to the beginning, so you'll get the possibility to create an individual route. You decide how strenuous you want your excursion to be, depending on your mood.
Winter activities
Away from the slopes and cross-country ski trails, there are many other challenging leisure activities available during your visit. How about visiting an exciting sports event, a fast-paced toboggan run or a trip to the NTC Winter Adventure Park? For adrenaline junkies like me, there are also extreme sports like ice climbing.
Snowshoe
New isn't always better. The snowshoe is one of the oldest means of transport for snowy landscapes and invites you to explore untouched landscapes. For your own safety, however, you should not go directly on your own, but at best join a guided tour. Anyone who thinks that this experience is not strenuous or action-packed enough is mistaken. Crossing untouched snow is not only physically demanding, but also requires a willingness to take risks on routes that haven't been explored yet. An extraordinary activity for your winter sports vacation.
Here you can find an overview of nearby mountain schools that can take you on your first tour, show you the right walking technique and recommend a level of difficulty to suit your personal abilities.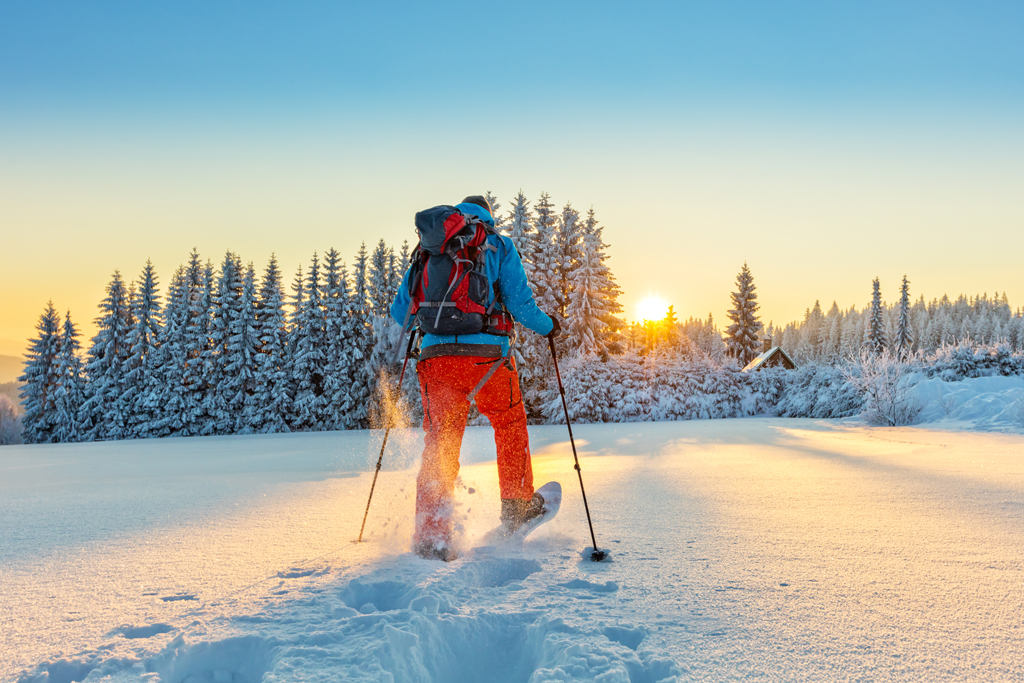 Red Bull Bankx
It is not only the Ski Jumping World Championship that takes place around Oberstdorf. In 2023, the Red Bull Bankx event offered an incredibly special highlight for the region. Pure ski action, lots of speed, tight turns, and the participants? On a total of two race days, 150 enthusiastic amateurs and friends of winter sports showed their skills at the ski event – without being professional athletes! Everyone was welcome to conquer the prepared ski course and give their best in front of the impressive backdrop of the Nebenhorn. Fun and unique memories were pre-programmed here!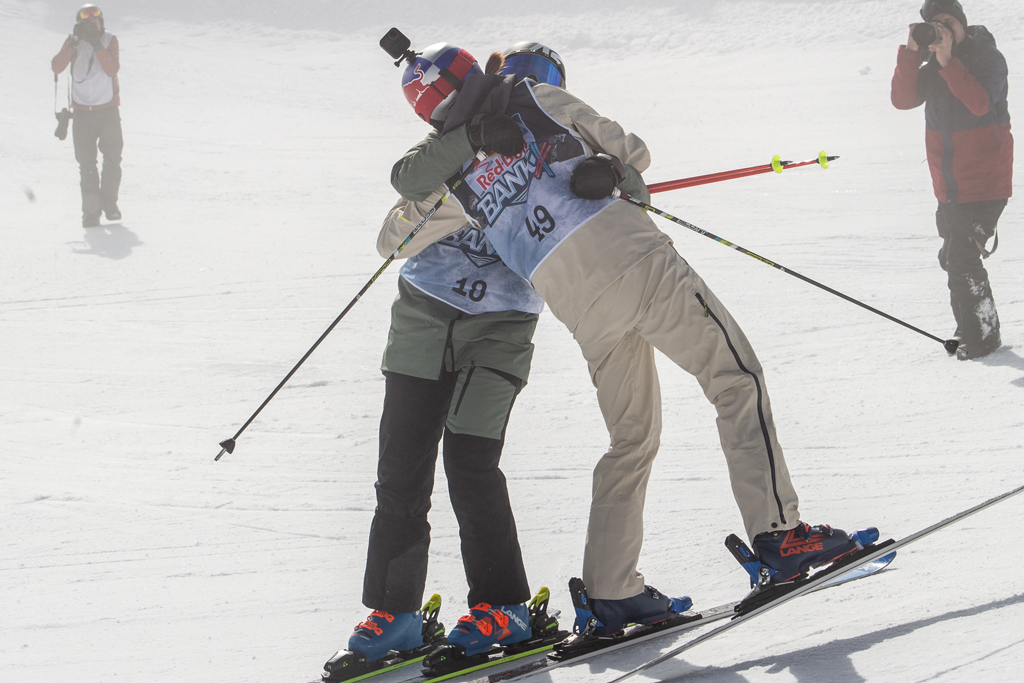 Tobogganing
Tobogganing isn't only fun for the little ones! Around Oberstdorf there are various toboggan runs that range from child-friendly to extra-long to sporty.
The fast-paced natural toboggan run from the Seealpe into the valley, is a real adrenaline-garant! Long straights, tight curves and fast descents make the toboggan run a special experience for sports fans. In between, vantage points and the Berggasthaus Seealpe invite you to take a break before continuing your route to Oberstdorf. You don't have a toboggan with you? Don't worry! I was able to rent a wooden sled at the Seealpe without any problems.
If you have planned a visit to the Breitachklamm, this can be perfectly combined with a toboggan run at the Alpe Dornach. After visiting the rocky gorge, you will pass the Alpe Dornach and can easily rent a toboggan for young and old. In addition to an exciting downhill run, the toboggan run also offers a breathtaking panorama of the Nebelhorn. Don't miss it!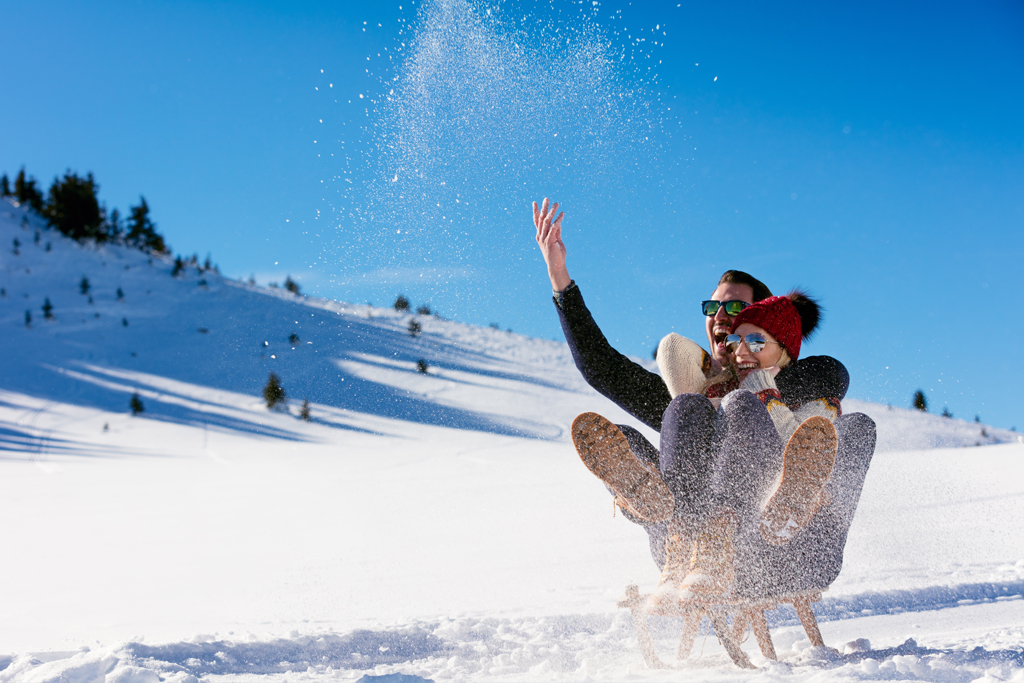 NTC winter adventure park
The NTC winter adventure park offers the perfect fun-package for your winter sports vacation. You will find a variety of different equipment that you can test out on specially designed routes and courses. If there are any fun sports equipment that you don't know yet, this is also no exclusion criterion for a test ride. The NTC winter adventure park provides guides to help you with your first attempts. If you want to find out what a Skibockerl, -Fox or -Onefoot is and you'd like to try it right away, you are well cared for.
Ice climbing
For friends of extreme sports, I highly recommend ice climbing on the Rubihorn. Here you can either climb the frozen outflow of the Gaisalpsee or you can conquer routes with different degrees of difficulty above the lake. For this kind of adventure, previous knowledge is a MUST! Otherwise, it quickly becomes dangerous. If you have never climbed before or have no experience with the quality and stability of ice, a beginner's course is mandatory – for example at the Oberstdorf Mountain School.
The ideal accommodation
For your action-packed winter sports vacation in Oberstdorf, I can highly recommend the Best Western Plus Hotel Alpenhof. In the 4-star wellness hotel, all excursion destinations and activities are easily accessible, and you get the perfect conditions to relax after a busy day in the snow!