The region convinced me especially with its diversity and wide range of activities. In addition to the annual Four Hills Tournament, Oberstdorf offers a wealth of activities that can encompass a relaxing and snowy winter day, as well as exciting action. That makes Oberstdorf to the perfect location for your winter sports vacation.
For those who prefer to take their active vacation a little easier, I can recommend my following favorites:
Ski and Snowboard
Oberstdorf is well known for its excellent ski slopes. With 130 kilometers of slopes, the Söllereck-Fellhorn-Kanzelwand ski area is the largest ski area in the region. Beginners get are offered a variety of ski schools to get started with the winter sport of their choice. On a total of seven mountains, there are also exciting activities for families.
Skischulen
Whether young or old, there are sufficient possibilities for every skiing beginner around Oberstdorf, to find a start in winter sports. The Skischule BERGSPORT JA offers children's and adult beginners' courses, but also teaches the correct technique for cross-country skiing. The NTC Sports Skischule also offers a wide range of training courses, from ski rental to beginner courses and snowboard courses at all levels.
Cross-country skiing
More than 75 kilometers of groomed trails let the hearts of cross-country skiing fans beat faster: Whether you are a beginner or an advanced skier – you will be thrilled! Along mountains as well as breathtaking landscapes and picturesque valleys, this activity enchants not only with sporty but also enjoyable character.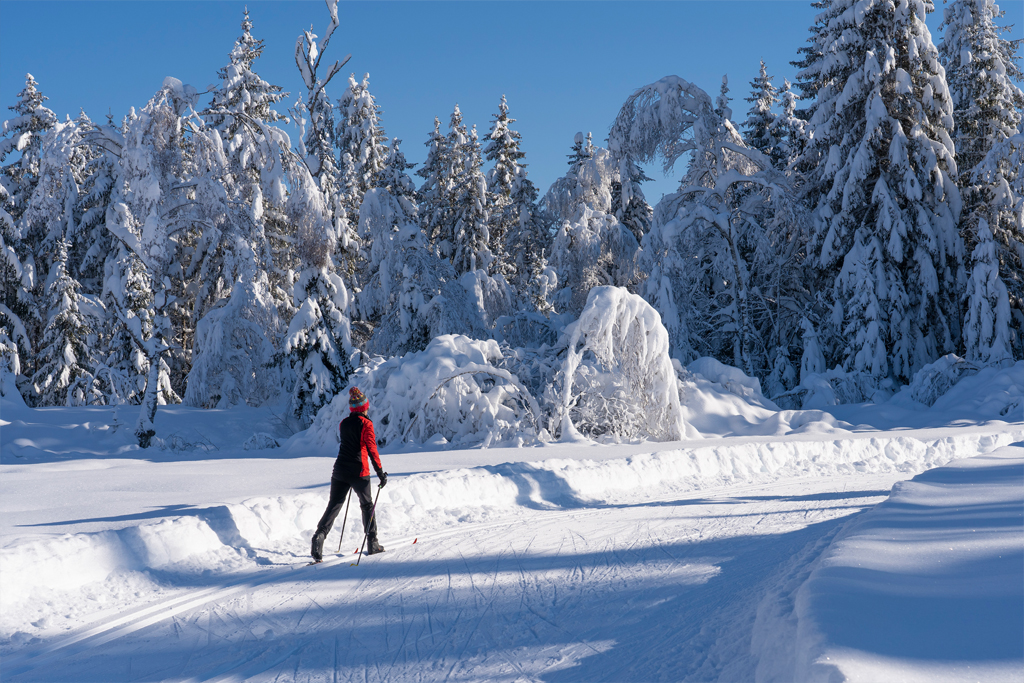 Cross-country ski schools
Trained cross-country skiing instructors invite you to try the endurance-enhancing sport of cross-country skiing. As a prospective customer, you do not need to bring your own equipment or much prior knowledge. The local ski schools provide the most modern rental equipment and are looking forward to teach you the correct technique. Biathlon interested will also be pleased, as courses are offered regularly at the Nordic Center Oberstdorf. All cross-country ski schools in the area can be found on the Oberstdorf information website.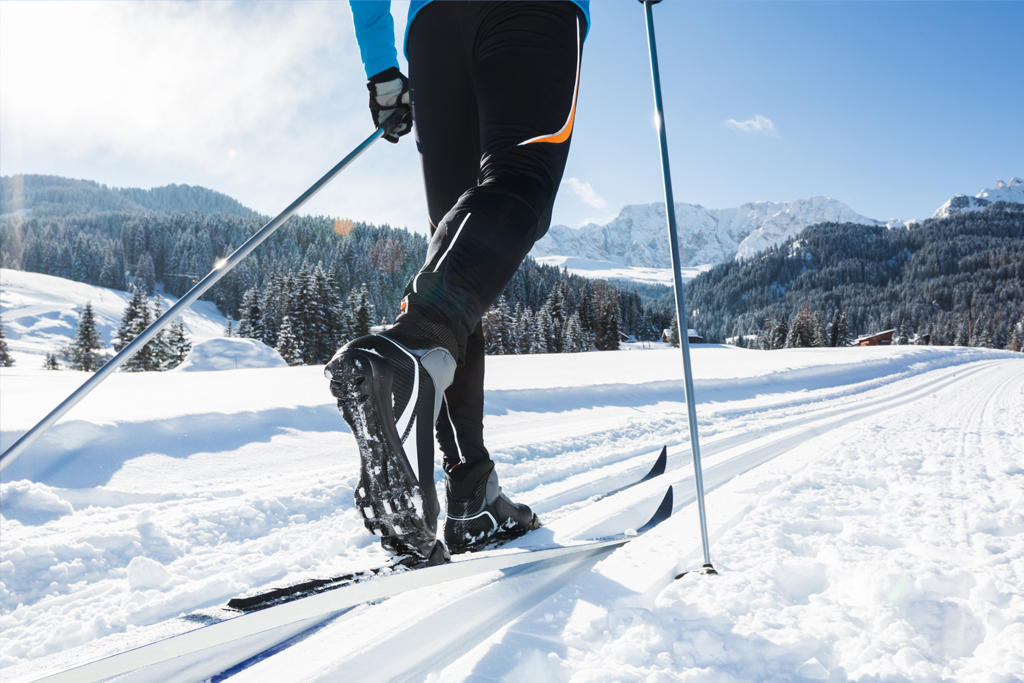 Winter hiking
For all those who are not skiing fans, there are many opportunities for winter hiking. The region around Oberstdorf invites you to explore and offers many hiking trails that are also easily accessible in winter. From leisurely walks along rivers to challenging mountain hikes, there are hiking opportunities everyone!
Hiking trails
Hiking is not only a sporting activity for the warmer months. Especially in front of the snowy scenery of Oberstdorf, winter hiking becomes something very special.
My recommendation? Visit the Freibergsee. An adventurous yet idyllic climb will lead you to a circular path around the entire lake. If you still have enough energy and motivation, you should pay a visit to the Heini-Klopfer ski jump. Germany's largest ski jump not only offers a magnificent view, but also the opportunity to stand 70 meters above the ground yourself.
If you want it to be even more spectacular, you shouldn't miss the Breitachklamm gorge! The gorge is the deepest in Central Europe and certainly one of the most impressive. Especially in winter, the frozen ice-formations make a walk through an experience in a class of its own.
Walking trails
Those who prefer a more leisurely and relaxed pace should consider a walk.
Enjoy the mountain panorama on a walk across the sunny meadows on the southern outskirts of Oberstdorf. Accessible resting benches invite you to take peaceful breaks even in winter, which can be really relaxing after hiking or skiing.
Or take a leisurely walk from village to village and discover the route from Weidach via Reute to Kornau. On this route, you can look forward to steeper ascents combined with more relaxed passages. The offered variety and the charming landscape are particularly appealing. By the way, you shouldn't miss the incredible view of Oberstdorf which can be experienced from the small village Reute!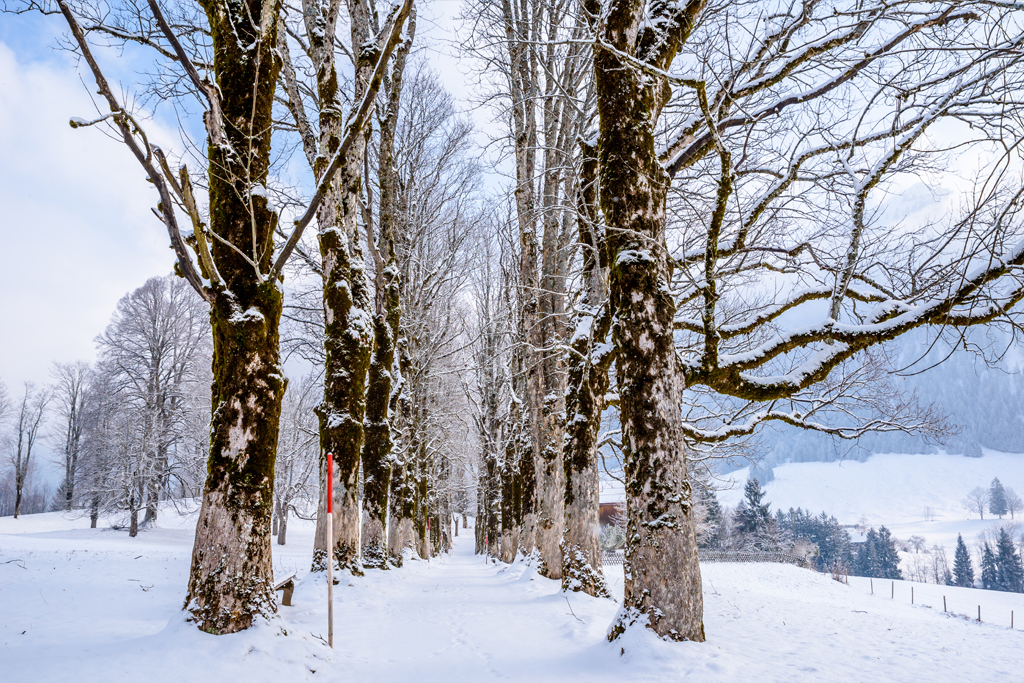 Winter activities
Apart from the slopes and hiking trails, there are many other leisure activities you can do in Oberstdorf. How about a visit to the world championship ski jumping arena? The way there can be managed by car, but for your active vacation, I highly recommend a walk through the beautiful winter landscape.
World cup ski jumping arena
The World Cup Ski Jumping Arena Oberstdorf Allgäu is one of the most beautiful arenas in the world. You can visit it independently or with a guide. Either way, you can expect a magnificent view from the panorama platform on the ski jump tower. Both, the jump table and the jump tower, are open to visitors and offer a spectacular view of the surrounding mountain landscape and Oberstdorf. The costs of the lift and inclined elevator are included in the arena's manageable admission price.
The ideal accomodation
Plan your winter sports vacation at the Best Western Plus Hotel Alpenhof and take advantage of the 4-star wellness hotel to unwind after a day of winter sports. From the hotel all destinations and activities are easily reachable and thanks to the rich breakfast buffet you can start every day of your active vacation invigorated!