The perfect location
I explored the city starting from the Best Western Hotel Tulln and was thrilled with the central location of the accommodation! Located directly on the banks of the Danube, it offers modern comfort, refined interior and yet inviting coziness.
Most of my sightseeing destinations were within walking distance – a huge plus! Thanks to the rich breakfast buffet and the really comfortable box-spring bed, I was able to start my sightseeing days invigorated and rested.
I was particularly convinced by the vacation offers, which also make the hotel stand out in terms of price-performance. I booked the package "Erlebniswelt Garten Tulln" and was able to save the additional entrance fee to the "Garten Tulln".
Excursions and activities
Tulln is proud to ascribe itself the title of "City of Flowers," – and for good reason. The city awakens to a veritable sea of blossoms during the warm months, offering inspiration for your own garden or balcony. From lush gardens to lovingly laid out flowerbeds, the entire city shines in a vibrant palette of colors.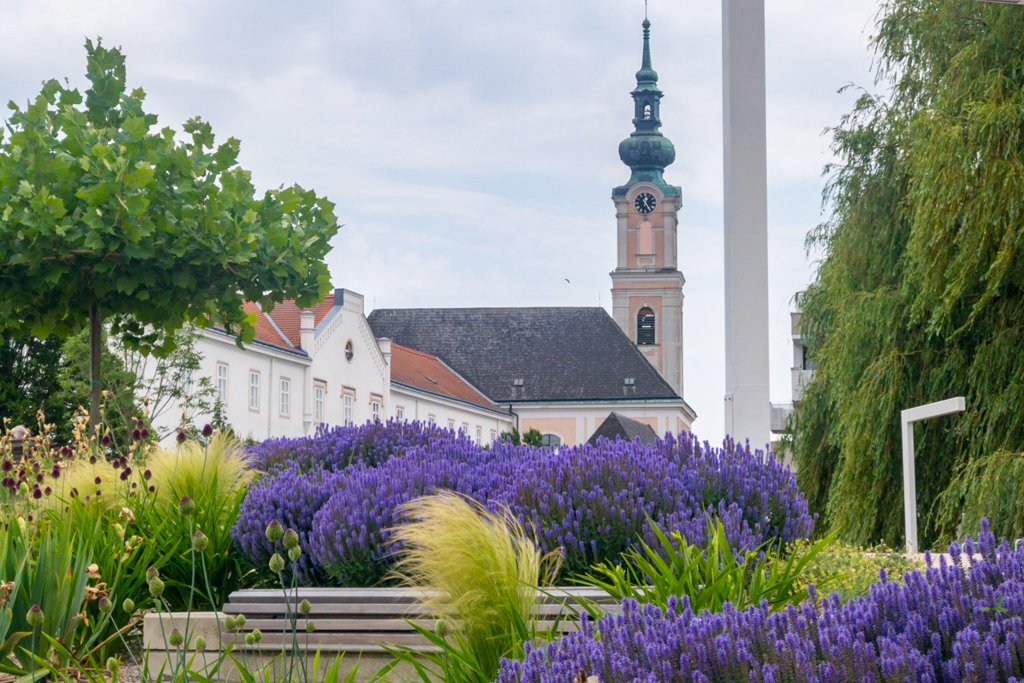 The "Garten Tulln"
As already mentioned, I visited the "Garten Tulln" and was thrilled by the garden experience world, which is also Europe's first ecological garden show. A total of 70 different show gardens, many attractions such as the treetop walk or the adventure and nature playground for children offer an experience for young and old from April to October.
At the charming "Gärtnerei" eatery, which boasts a serene lakeside terrace and a traditional Bavarian beer garden, you can enjoy a variety of both substantial and smaller culinary offerings. I had the opportunity to sample a 2021 blue Portugieser from the esteemed Koch winery at "WEIN-GE-NUSS. If you're considering an independent journey, you can look up the ticket prices through this link.
Herb workshop & herb hikes
My personal highlight was my trip to the "Veilchenblau" in Tulln. Doro Hebda from Tulln arranges herb hikes as well as herb workshops and I continue to be amazed by the wealth of new knowledge I've gained from this experience. During the guided tour, we were able to explore and inquire about the variety of wild herbs and their modes of action. Whether it's a seasoning or medicinal herb, I'm well prepared for my next DIY projects! For individuals seeking to collaboratively craft with local herbs, the workshops offer an ideal platform. Whether it's for skincare, crafting personal detergents, or exploring herbal smoking blends, there's something captivating here for everyone.
Picnic on the Danube
To relish the city's lush greenery and nature even while dining, I picked up an already filled picnic basket at the "Taverne". Packed with local delights, I ventured to the Danube riverbanks' picnic area, unwinding and allowing my soul to roam freely. I wholeheartedly suggest this experience to all nature lovers! The generously filled basket contained more than I could enjoy at once, so I savored the rest later on.
The "Naschmarkt" on the main square in Tulln
Every Friday from 8:00am to 6:00pm the beautiful main square in the heart of Tulln is transformed into the so-called "Naschmarkt". Here you can taste and buy culinary specialties, fine wines, flowers and seasonal items from farmers and regional merchants. If you are out and about during the warm months, on the 1st Friday of the month you can also admire and purchase handicrafts such as woodwork, handmade ceramics or painting.
My stay in Tulln lasted merely three nights, yet I'm already certain of returning for another visit. Tulln's abundant art scene, historical Roman heritage, and diverse gastronomic experiences make it an enticing destination that never disappoints. Whether you're drawn to its cultural aspects or seeking a rural escape, the Best Western Hotel Tulln has enticing vacation packages to cater to your preferences.