Starting off with coffee – Let me take you on a Coffee Tour through Mainhattan – Discovering Frankfurt's Best Cafés
Mainhattan – Discovering Frankfurt's Best Cafés
Frankfurt's love affair with coffee dates back centuries, and the city is home to some of Germany's finest coffee shops. Experience Frankfurt's vibrant café culture at these top coffee spots:
1. Hoppenworth & Ploch
With multiple locations in Frankfurt, including trendy Nordend and the heart of the new old town, Hoppenworth & Ploch is renowned for serving some of the best coffee in the city. Their own roasted coffee beans ensure a fresh and flavorful cup, accompanied by delicious cakes and pastries.
2. Die Heilig-Kreuz-Brauerei
Located in Frankfurt's Sachsenhausen neighborhood, this café offers artisanal coffee and craft beer. Its cozy and intimate ambiance is perfect for catching up with friends or enjoying a good book. Try their coffee-based drinks and pair them with savory snacks and sandwiches.
3. Café Karin
Situated in the trendy Bornheim district, Café Karin is beloved for its warm and friendly atmosphere, delicious coffee, and homemade cakes. The café's cozy and inviting interior, adorned with a mix of vintage and modern decor, sets the stage for a delightful coffee experience.
4. Wacker's Kaffee
Since 1930, Wacker's Kaffee has been serving some of the best coffee in Frankfurt. Located near Hauptwache, this classic and elegant café offers its own roasted coffee beans, delectable sandwiches, and cakes. It's an ideal spot for a quick lunch or afternoon tea.
5. Café Sugar Mama
Tucked away in the Bockenheim neighborhood, Café Sugar Mama charms visitors with its warm and welcoming atmosphere. Enjoy a range of coffee-based drinks, homemade cakes, and pastries. This café also offers vegan and gluten-free options, along with refreshing smoothies and fresh juices.
After enjoying coffee and snacks at one of my favorite coffee places and exploring the city, I tend to crave some dinner. So here are my top recommendations for restaurants in Hesse – in and around Frankfurt.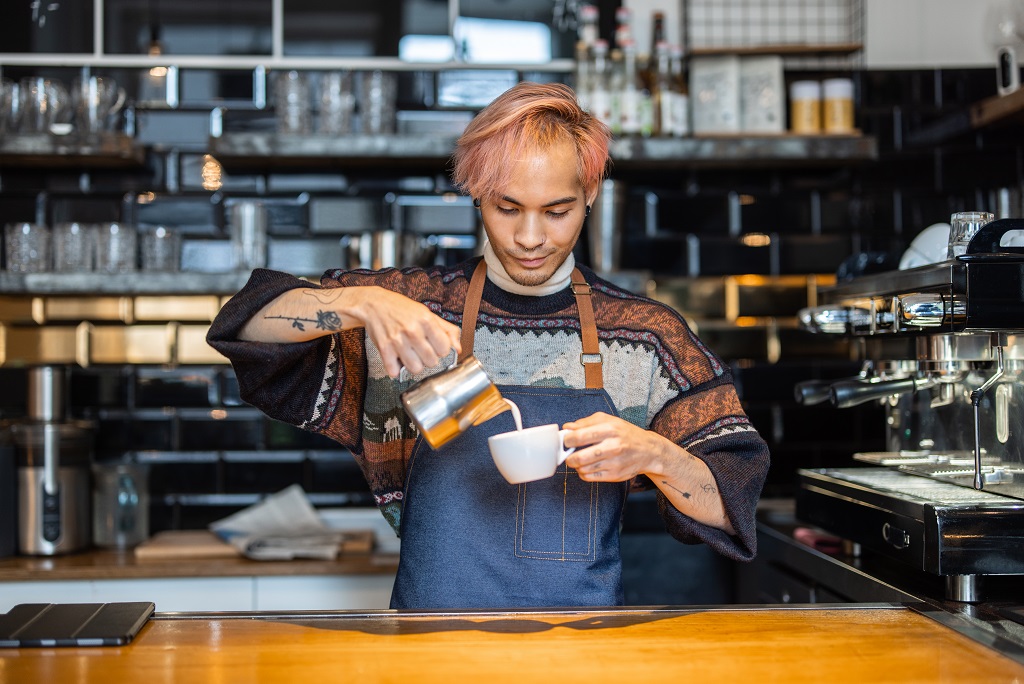 Foodies´ Paradise – Exploring Hesse's Top Restaurants
Hesse, the region in central Germany, is renowned for its rich culinary heritage and diverse gastronomic offerings. Here are some of the top restaurants in Hesse that you must visit:
1. Lohninger
Located in Frankfurt, Lohninger offers innovative takes on traditional Austrian cuisine. Chef Mario Lohninger combines classic dishes with modern techniques, creating a unique dining experience. Must-try dishes include the Viennese schnitzel and the fluffy Kaiserschmarrn pancake with fruit compote.
2. Main Nizza
Another gem in Frankfurt, Main Nizza specializes in Mediterranean cuisine with a focus on seafood. With its modern and airy ambiance, it provides a relaxed and sophisticated dining experience. Don't miss out on the grilled octopus or the whole sea bass for a taste of the Mediterranean.
3. Gustav
Nestled in the trendy Nordend neighborhood of Frankfurt, Gustav is a popular spot for brunch, lunch, and dinner. Their seasonal and locally sourced ingredients result in fresh and flavorful dishes. Be sure to try the roasted pumpkin with goat cheese and pumpkin seed oil.
4. Traumkuh
Venture to the charming city of Wiesbaden and visit Restaurant Traumkuh, a culinary gem in Hesse. With its elegant and contemporary setting, this burger restaurant offers a unique dining experience that is sure to please any food lover.
5. Leib & Seele
In Frankfurt, Leib & Seele stands out for its creative twists on traditional German dishes. The menu boasts a variety of meat, fish, and vegetarian options. Indulge in their Schnitzel and meatloaf for an authentic German culinary experience.
6. Burgerheart
Head to Mainz to savor some of the best burgers in Hesse at Burgerheart. This restaurant offers a range of gourmet burgers, including vegetarian and vegan options. The casual atmosphere and friendly service create a fun and laid-back dining experience.
7. La Piazza
Escape to Kassel and discover La Piazza, an Italian restaurant known for its authentic, homemade pasta dishes. Indulge in classic Italian flavors with dishes like spaghetti carbonara or gnocchi with gorgonzola sauce.
8. Café Chaos
Although technically a café, Café Chaos in Darmstadt is a hidden gem that deserves recognition among Hesse's top culinary establishments. This café is not any run-of-the-mill café. While you´re of course able to grab a cup of coffee, you can also enjoy their lunch and dinner options until late at night. Combining delicious food, a relaxed atmosphere, and artistic flair, it offers a unique dining experience.
Frankfurt and its surrounding region, Hesse, offer a remarkable culinary journey that combines excellent dining experiences with a vibrant café culture. Whether you're seeking top-notch restaurants serving diverse cuisines or exploring cozy coffee shops with unique flavors, Frankfurt has something for every food and coffee enthusiast. Don't miss the opportunity to indulge in the culinary delights and immerse yourself in the rich flavors that this dynamic city has to offer.